Description
Whether used in homes or businesses, MORN Vertical Platform Lifts with enclosure or cabin help eliminate barriers that stairs may present for people with limited mobility. MORN home lifts can provide access to different landings of a building without compromising architectural character, which means MORN enclosure or cabin VPLs are self-contained and need no hoistway or shaftway. The enclosure consists of aluminium alloy frame and tempered glass, forming solid structure. The vertical platform lift with a cabin can keep users away from chilly wind and rain to make users feel safe and warm.
Certification: CE certification
Lifting capacity: 250 kg
Lifting height: 1,200 mm – 10,000 mm, subject to customer requirements
Flexible design and feature options: Can be built to suit virtually any home or commercial project.
Quiet and reliable hydraulic drive: Smooth start, stop.
Multiple safety device: With anti-drop function, the platform will stop within 0.15 seconds in case of drive chain breaking. Safety plate is installed on the bottom of the platform, which will be stopped if the safety plate is touched by any foreign object.
Power: The power supply adopts single-phrase power, and the control voltage uses 24V DC safety voltage.
Material: More than 85% of the external parts are made of rust-proof materials (stainless steel and aluminum alloy).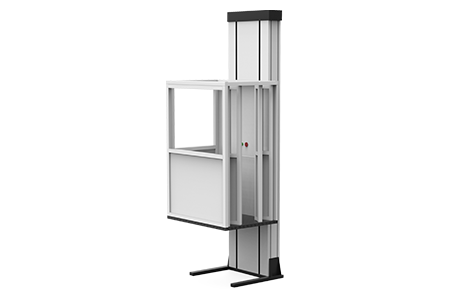 | MODEL | PLATFORM SIZE(MM) | LIFT HEIGHT(MM) | CAPACITY(KG) | DIMENSIONS(MM) |
| --- | --- | --- | --- | --- |
| WL-1.2 |   1,420×900*2000 | 1,200 | 250 | 1,430×1,500×2,050 |
| WL-1.6 |   1,420×900*2000 | 1,600 | 250 | 1,430×1,500×2,450 |
| WL-2.0 |   1,420×900 | 2,000 | 250 | 1,430×1,500×2,850 |
| WL-2.4 |   1,420×900 | 2,400 | 250 | 1,430×1,500×3,250 |
| WL-2.8 |   1,420×900 | 2,800 | 250 | 1,430×1,500×3,650 |
| WL-3.2 |   1,420×900 | 3,200 | 250 | 1,430×1,500×4,050 |
| WL-3.6 |   1,420×900 | 3,600 | 250 | 1,430×1,500×4,450 |
| WL1-4.0 |   1,420×900 | 4,000 | 250 | 1,430×1,500×4,850 |
| WL-4.4 |   1,420×900 | 4,400 | 250 | 1,430×1,500×5,250 |
| WL-4.8 |   1,420×900 | 4,800 | 250 | 1,430×1,500×5,650 |
| WL-5.2 |   1,420×900 | 5,200 | 250 | 1,430×1,500×6,050 |
| WL-5.6 |   1,420×900 | 5,600 | 250 | 1,430×1,500×6,450 |
| WL-6.0 |   1,420×900 | 6,000 | 250 | 1,430×1,500×6,850 |